Emma Bee explains why our latest citizen-science tool will have the Twitterverse looking to the skies...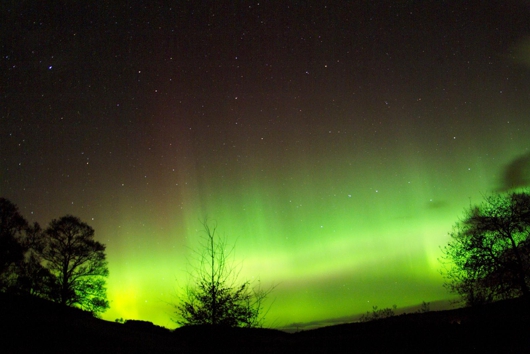 Aurora over Deeside, Scotland. Photo courtesy
of Jim Henderson Photograph
Over half of the population of the UK own a smartphone, and about the same number of people uses social media such as Twitter. For us this means millions of potential reporters of real-time events and in-the-field data capturers, creating a new source of scientific information that could help to better understand and predict natural processes.
Obtaining information about a hazard event as it unfolds, such as a flood or earthquake, was, until relatively recently, largely limited to the professional media. However, as is seen more and more often social media is being used extensively to gain live situational awareness. During the Japanese Earthquake in 2010 videos were posted on YouTube hours before the same clips were used by the professional media. More and more people are looking to social media as an additional, more immediate source of information.

GeoSocial is a tool currently being developed by BGS for retrieving and displaying information relating to geoscience (initially geohazards) that people have posted on social media sites. Although still in its infancy, the aim of GeoSocial is to explore whether BGS can make use of the wealth of information, publically available through these sites, to help advance scientific understanding and provide better, or, more - timely, advice.

It employs both passive (i.e. obtaining information which people have shared and which can be retrieved without requiring them to do anything beyond their normal behaviour and actions) and active crowdsourcing techniques.

In this first release, GeoSocial has been developed to retrieve information about aurora sightings in the UK posted on Twitter. When a geomagnetic storm forecast is issued, a common question posed to scientists is "How far south will the aurora borealis be seen?" Current projections do not always match sighting reports received after an aurora display, but by using social media, it is hoped that this new source of data will help improve our scientific projections of these events.

So next time there's a Space Weather alert and you've been lucky enough to see the Aurora get Tweeting. Your Tweets will populate a map (above) where we'll all be able to see how far south the aurora is being sighted in real-time!

Tweet the hashtag #BGSaurora, the event's location (postcode: loc[EH9 3LA], town name: loc[Edinburgh], or geotag your tweet using the
tweet location feature
), and comments or pictures.
You can follow the BGS Geomagnetism Team on twitter using:
Emma
GeoSocial Project Leader