Mary Anning, trowelblazer
Thinking geology? Thinking science? Thinking crinolines, bonnets, and muddy skirts? Probably not! However, if you discount the damsels in the discipline, you actually lose quite a bit of history-and that's what our project 'TrowelBlazers' is all about. We're a small collective of researchers who got a bit bored with the hoary old pictures of the great and good in science, and started looking around for some of the unsung (or just amazing) heroines of the digging fields - archaeology, palaeontology, and, of course,
geology
. We started the
TrowelBlazers site
and put out the call for people to nominate trowelblazing women. After just a few months, we've had 50 posts, many of which were submitted by guest posters who have direct links to the women they are writing about.
Official Wikimedian sticker and pin
With the approach of Ada Lovelace Day, an international celebration of the contributions of women in science, we started to hear more and more about other groups plans to highlight the forgotten women in their fields. While preparing our chapter on trowelblazing women in
Passion for Science
for the FindingAda project, we started to get really into the question of just how many trowelblazers were out there--and we found tons! What we didn't find, however, were their entries on wikipedia. This imbalance might have something to do with the larger issue of
how few women contribute wikipedia entries
overall -- just 13% according to a
2010 study
.
Here we are in the NHM Boardroom
(the Dodo painting gives it away)
That's why Ada Lovelace Day this year was accompanied by wikipedia editathons across the world to try and tip the scales just a bit back towards balance. Team TrowelBlazers'
Suzanne Birch
covered the American Beat with a wikidetithon at Brown Univeristy, while our own
Victoria Herridge o
rganised
#TBwiki
- the first wikieditathon at the Natural History Museum, to bring together people who wanted to contribute to wikipedia with our resident Wikimedian to talk training, tips, and trowelblazers.
The event was a smashing success - we had a full house and a wide variety of partipants! John, our Wikimedian, was on hand all day to help our potential entries get off on the best possible footing, linking our new trowelblazer posts to other related content, showing us how to sort out images, and all of the technical details.
By the end of the day, we had written several new posts- result! Suzie's
entry
on
Bertha 'Birdie' Parker
ended up on Wikipedia's front page and got more than 4,000 hits -talk about awareness building! We also had pages on
Meemann Chang
(courtesy Rob Mounce),
Amice Calverly
(courtesy Claire Millington),
Rosalind Moss
(Lisa Lodwick),
Etheldred Bennet
(courtesy Emily Humble) and
Marjorie Courtenay-Latimer
(courtesty Dominic Bennet). But we still need more! TrowelBlazers is putting out a call to all of you who are interested in highlighting women's often-overlooked contributions to science: if you can think of a trowelblazer we should feature, let us know! Or even better, write us a post! We love guest posts and our submission guidelines are
here
.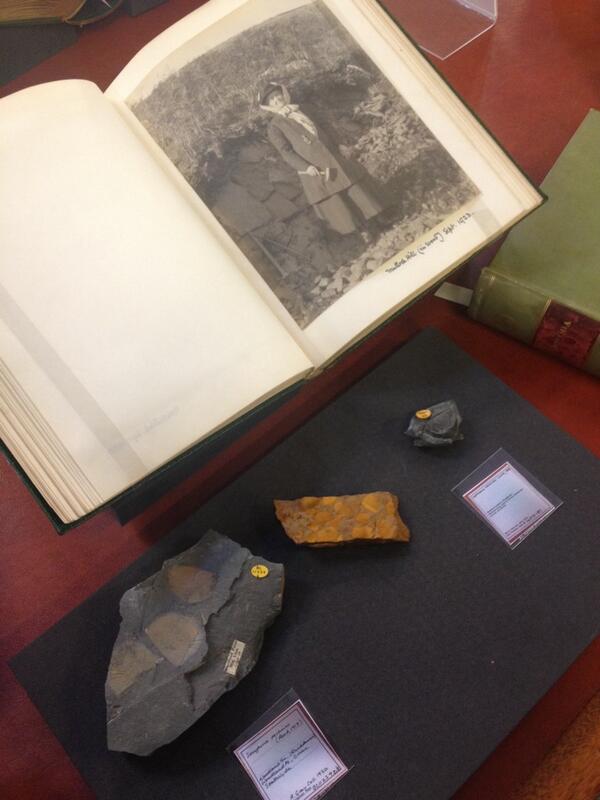 A massive thanks to everyone who came out to help, from getting collections out (e.g. Elizabeth Grey's snazzy outfit shown left, next to specimens she collected). Thanks to all of our participants and to our incredibly awesome folks from the NHM for volunteering their time and energy and making it all happen. And don't forget, anyone can edit Wikipedia! Post written by
Brenna Hassett
on behalf of TrowelBlazers. Follow us on twitter
@trowelblazers
or submit a guest post to
troweblazers.tumblr.com
Brenna